Daily Telegraph
---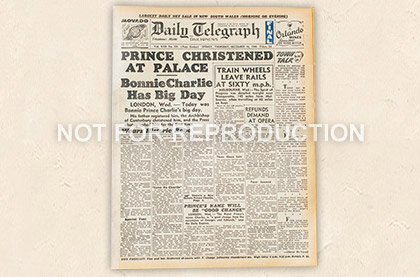 Sample image only
Broadsheet (1903 - 1927), Tabloid (1927 - 1931), Broadsheet (1931 - 1942), Tabloid (1942 - present)
First published 1879
Published in the mornings, Monday to Saturday
Stock availability at Paper World:
Anniversary Newspapers: 1911 - 1942, 1997 -2002
Recent Back Issues: 2003 -present
From 1900 to World War I, conservative broadsheet format with classifieds on front page and news inside
Competing in a very fierce Sydney newspaper market, it changed owners and took on various incarnations during the 1920s:
During the early 1920s, modernised itself and distinguished itself from other Sydney newspapers by moving news to the front page, increasingly using bold headlines and photography and reporting more sensational news
In 1927, changed to a tabloid pictorial format with a fantastic art-deco layout indicative of the period,
Form 1927 to 1931 it went through many variations of its name including the Daily Telegraph News-Pictorial, Daily Telegraph Pictorial and Daily Pictorial.
In 1931, returned to a broadsheet format and original name, but kept news and headlines on its front page,
During the 1930s, it finally found a good balance between serious and sensational news, that saw it shake its instability and establish itself as Sydney's second major morning newspaper
Due to newsprint rationing during World War II, changed to a tabloid again in 1942.
Has since consolidated its position as Sydney's second newspaper, further strengthened by it being acquired by the Murdoch empire in the early 70s
In 1990, it merged with its afternoon counterpart, the Daily Mirror, and was briefly called the Telegraph Mirror, before returning once again to the Daily Telegraph.