The Age (VIC)
---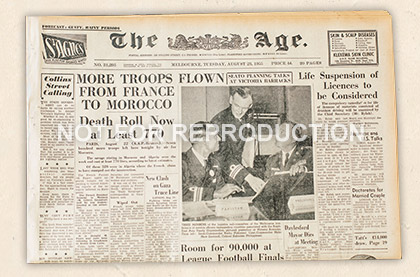 Sample image only
Broadsheet
First published 1854
Published in the morning from Monday to Saturday
The Sunday Age published Sunday Mornings since 1989
Stock availability at Paper World:
Anniversary Newspapers: 1903 - 2002
Recent Back Issues: 2003 - present
Well known for detailed political, cultural and business news and a strong analysis of issues.
Classified advertisements rather than news on its front page until the 1940s, saving detailed news reports and photographs for the inside.
Developed its visual appeal since World War II by using headlines and photographs on its front page and adding supplements
Greater use of colour and a bolder broadsheet format were introduced to both newspapers during the 1990's.